EVE 2.0 by Winter Lawrence - YA, Action, Adventure, Fantasy, Sci-Fi- ***Interview with the Author - Giveaway***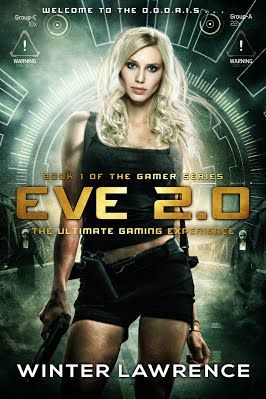 YA Action Adventure Fantasy | Science Fiction | LitRPG
Publisher: Fire & Ice Young Adult Books
Date Published:
August 27, 2019
Gwen Nielson is a gamer and she's damn proud of it. Her mother may be a former beauty queen and her kid sister may participate in every pageant the state of Colorado has to offer, but Gwen is content to stay at home and play on her Xbox. To her, life isn't about fashion and make-up; it's about making a difference and keeping a low profile. And while most of the girls at her high school hang out at the local country club vying for the popular boys' attention, Gwen is cool with having a boyfriend she's never met. Pete is a fellow online gamer who lives in California. He's funny and sweet, and his father owns a gaming company, which is an added bonus because Gwen gets to test out new games before they're released to the public.
When Pete mails a new game for her to beta test, Gwen patiently awaits its arrival, but the package is never delivered. To make matters worse, when she calls to let Pete know, she discovers that he's at the hospital after succumbing to a mysterious illness. Hours later, an ambulance arrives next door because her neighbor's youngest son, Ben, suddenly becomes ill too. His parents and doctors aren't sure why he has slipped into a coma, but when Gwen finds her opened package in Ben's bedroom, she begins to suspect that the game is responsible for both of the boys' eerily similar conditions.
Even to Gwen, the idea of a game making people sick sounds absurd, so she decides to test her theory before going to her parents. Unfortunately, her neighbor's older brother, Ryan, insists on checking out the game with her. That's when they discover that the disc isn't a game at all—it's actually a portal to a high-tech government simulator named Eve 2.0 who's programmed to trap players until they can complete all of the timed objectives.
With her top-notched gaming skills, Gwen is a formidable opponent, but she quickly begins to realize that playing a game versus living it is a lot harder than she ever imagined. And as the objectives become more difficult and the four kids are forced to work as a team, Gwen concedes that she may not be as good as she needs to be, which just might end up costing her not only her own life, but Pete, Ryan, and Ben's too.
#1 – Do You See Writing as a Career?
Absolutely! I would definitely say it's a tough career to break into, and, for an average writer, it isn't the highest paying job, but the rewards are plenty and there really is no other job like it on the planet!
#2 – What was the Hardest Part of Your Writing Process?
I'm a procrastinator, and I tend to over-extend myself with life in general, so time management is definitely one of my greatest struggles. Thankfully, I have a handy-dandy-old-school calendar that helps me keep everything on track, and I also use a couple of project management tools that keep my work and writing projects on task!
#3 – Did you have any One Person Who Helped You Out with Your Writing Outside of Your Family?
When I was a kid, I always wanted to be an astronaut, so I was always more interested in science than I was in English. As an adult (who discovered that I like to keep my feet firmly planted on the earth!), my passion for reading and writing finally got me interested enough in English to pursue a degree. I got my Masters in English and Creative Writing from SNHU and my thesis advisor, Theresa Crater, was a tremendous help in not only guiding me in the right direction, but she also inspired me with her own accomplishments and writing career!
#4 – What is next for your writing?
I have a couple of books coming down the pike, and I'm finally back on the teaching track! Many years ago, I enjoyed hosting writers' groups and creative writing seminars. I took a break from those to focus on writing, but now that I've found my stride in that regard and I've been fortunate enough to sell a couple of my novels, I'm excited to go back into teaching! Next year, through one of my favorite publishing houses, I'll be hosting an online query letter workshop and I'm hoping to get back into the classroom soon!
#5 – Do you have an addiction to reading as well as writing? If so, what are you currently reading?
Yes! Personally, I think they go hand-in-hand and I couldn't imagine my life without either now! I will say that because my "day job" involves reading, and my writing career requires a lot of writing, during my leisure time I tend to read a lot of easy-going middle grade books. Aside from young adult, it's always been my favorite genre, so I love getting lost in a good, semi-spooky, and a little bit goofy read!
DESCRIBE Your Book in 1 Tweet:
Just when Gwen thought she could beat any video game hands down, her boyfriend goes and gets her stuck in a top-secret government simulator.
This or That?
#1 - iPod or Mp3? - iPod! I'm an Apple girl all the way!
#2 – Chocolate or Vanilla? - Vanilla! My hubby thinks I'm the weirdest person on the planet because I don't like chocolate, but it's never been a flavor I gravitate to.
#3 – Mashed Potatoes or French fries? - I like my potatoes crispy and ketchup dippable, so definitely French fries!
#4 – Comedy or Drama? - Comedy. I'm always smiling and I love to laugh!
#5 – Danielle Steel or Nicholas Sparks? - Danielle Steel for sure! Her books tend to have more spice and they are a little more upbeat!
#6 – Fantasy or Reality? - Fantasy! I live in reality (and sometimes it isn't what it's cracked up to be!).
#7 – Call or Text? - Text. Usually. Depends on the person!
#8 – Public School or Home School? - Public! I think it's important for kiddos to meet and socialize with all types of people from all types of places. It helps foster tolerance and acceptance.
#9 – Coffee or Hot Chocolate - Ohhh. Tough choice. I drink a cup of coffee in the morning for the jolt of caffeine, but I sure do love dipping Ritz Crackers in my hot cocoa!
#10 – eBook or Paperback? - Depends! For work, I prefer eBooks. For play, I want a paperback!
Winter lives in the moment and loves nothing more than being surrounded by her family, her fur-babies, and a ton of great reads! When she doesn't have her nose stuck in a book, she's usually thinking up far away, fantastical worlds or she's cooking up a storm in the kitchen!
Because of her love for all things literary, Winter pursued a Master of Arts degree in English Literature and Creative Writing. Professionally, she is a manuscript editor and, in her spare time, she enjoys hosting author spotlights, posting book reviews, and teaching creative writing workshops.
In her private time, she is an avid reader of science fiction, fantasy, and paranormal romances, and one day she hopes to inspire young readers in the same way her favorite authors continue to inspire her today.