CURTAINS FOR ROMEO -- Coastal Playhouse Mysteries #1 by Jessa Archer ***Q&A with the Author; See how she describes her book in one tweet -- Giveaway***
Coastal Playhouse Mysteries #1
Publisher: Archer Mysteries
Date Published: July 9, 2019




ROMEO, ROMEO, WHEREFORTH ART THOU?


Acting jobs are scarce now for former TV teen detective Antigone Alden. So when a teaching position opens up at Southern Coastal University, Tig packs up her teenage daughter and heads home to the Outer Banks of North Carolina.
The house she inherited from her mother isn't entirely empty, however. Her mom seems stuck between this life and the next, and now Tig is a local reporter's prime suspect in the murder of the former theater professor. Given his reputation as ladies' man, there are plenty of people with a motive.
Tig isn't a detective. She just played one on TV. Will that be enough to help her find the killer?
Guest Post
Q and A with the Author
Jessa Archer
Do you see writing as a career?
I've had several different careers, and I've always thrown myself into them fully. Writing is both my full-time job these days and my passion. I've been storing up these tales for years, working on them in fits and starts, and sharing with just a few close friends. It's beyond amazing to finally have them out in the world.
What was the hardest part of your writing process?
Focusing on one set of stories. I'm a world class starter, which is why I have so many series. And once I develop a set of characters, I want to keep going back into that world. So I've gotten used to juggling multiple books at the same time, diving over into a different cozy universe if the characters of one series decide to stop talking to me for a bit.
Did you have any one person who helped you out with your writing outside of your family?
It's impossible to choose just one, but there were several teachers and a librarian who gave me a great deal of encouragement to keep writing. Only one of them is still living, but I like to think the others know I finally took the plunge and will have a chance to read my stories. I mean, heaven wouldn't be heaven without books, right? :)
What is next for your writing?
The next two books in the Coastal Playhouse series will debut later in the summer. My Hand Lettering Mysteries are launching this summer as well, along with the Canterbury Golf Club Mysteries. Two additional series will launch in the fall, and I'm planning a new Thistlewood Star Mystery and a fourth Coastal Playhouse book by the end of the year. And I'm guessing there will be a few others, too. It's going to be a very busy year!
Do you have an addiction to reading as well as writing? If so, what are you currently reading?
I am a voracious reader, across a wide array of genres. Most of the time, I have at least two books in progress--one that I'm listening to, and one that I'm reading. Currently, I'm reading the latest in the Miss Fisher's Murder Mysteries series, Murder and Mendelssohn, and I'm listening to Truly Devious, by Maureen Johnson. That book is narrated by Kate Rudd, who also narrates my Thistlewood Star and Coastal Playhouse series.
DESCRIBE Your Book in 1 Tweet:
Tig Alden returns home to the Outer Banks to find her mom's house haunted, a theater professor murdered, and herself the prime suspect. Tig isn't a detective. She just played one on TV. Will that be enough to help her find the real killer?
This or That?
iPod or Mp3?
Either, depending on which device is at hand.
Chocolate or Vanilla?
Chocolate. The deeper and darker the better. :)
Mashed Potatoes or French Fries?
Hmmm....mashed potatoes, but only if there's gravy. Or butter and lots of garlic. Yum.
Comedy or Drama?
Anything that doesn't have at least a touch of both leaves me a bit cold. I like stories that are funny and heartwarming at the same time.
Danielle Steel or Nicholas Sparks?
Danielle gets my vote because her characters are quirkier.
Fantasy or Reality?
Fantasy. This is true both as a reader and as a writer.
Call or Text?
Text, unless its someone whose voice I'm missing.
Public School or Home School?
That depends entirely on the child. The important thing is that he or she comes away with a lifelong love of learning.
Coffee or Hot Chocolate
Coffee, and lots of it. Also tea. And...if you're going to pour that cup of hot chocolate down the drain, I'll take it, too.
eBook or Paperback?
Audible...and ebook. I love print books, too, but the convenience makes me lean toward digital that follows easily wherever I go.
About the Author: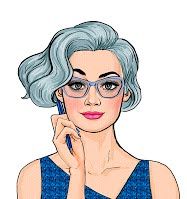 Jessa Archer writes sweet, funny, warm-hearted cozy mysteries because she loves a good puzzle and can't stand the sight of blood. Her characters are witty, adventurous, and crafty in the nicest way. You'll find her sleuths hand lettering inspirational quotes, trying to lower golf handicaps, enjoying a scone at a favorite teashop, knitting a sweater, or showing off a dramatic side in local theater.
Jessa's done many things in her long career, including a stint as a journalist and practicing law. But her favorite job is spinning mysteries. She loves playing small-town sleuth and transporting readers to a world where the scones are delicious, wine pairs with hand lettering, and justice always prevails.